Employment Discrimination
Our firm helps employees who have been discriminated against or retaliated against based on their membership in a protected class or engagement in protected activity. Federal laws protect the rights of employees and serve as exceptions to the "at-will" employment doctrine. While the general rule for employment in North Carolina is that an employer can fire an employee at any time for any reason, whether good, bad, or no reason at all, federal law prohibits employers from firing employees for discriminatory reasons or retaliatory reasons.
TITLE VII (RACE, COLOR, RELIGION, GENDER, OR NATIONAL ORIGIN)
Title VII applies to employers with 15 or more employees. Title VII prohibits covered employers from discriminating against an individual on the basis of race, color, religion, gender, or national origin. Title VII makes it illegal to refuse to hire, fire, or otherwise discriminate against any individual. Furthermore, Title VII prohibits employers from retaliating against any individual because he or she has opposed an employment practice that is made unlawful under Title VII.
SECTION 1981 (RACE)
In addition to Title VII, a post-Civil War law called "Section 1981" applies specifically to discrimination on the basis of race. Section 1981 may provide further relief for individuals who are victims of racial discrimination. For example, Section 1981 applies to all employers, no matter how small (i.e., the 15 person minimum of Title VII does not apply to Section 1981 claims). Additionally, unlike Title VII, Section 1981 does not require a person to file a charge of racial discrimination or retaliation with the EEOC first. There is also a much longer time limit for filing cases under Section 1981 than Title VII. Perhaps most importantly, the monetary caps on punitive and compensatory damages that apply to Title VII cases do not apply in Section 1981 cases. Overall, Section 1981 may be a preferable avenue for victims of racial discrimination and racial retaliation to explore.
PREGNANCY DISCRIMINATION
The Pregnancy Discrimination Act prohibits sex discrimination on the basis of pregnancy, childbirth, or related medical conditions. Under the PDA, employers cannot discriminatorily assign or reassign pregnant women to unfavorable positions, take away their benefits, require mandatory leave periods, refuse to hire, terminate, or take other negative action towards pregnant women. The PDA only applies to employers with 15 or more employees.
AGE DISCRIMINATION IN EMPLOYMENT ACT ("ADEA")
The ADEA applies to employers with 20 or more employees and protects individuals age 40 or older against age discrimination. The ADEA prohibits discrimination because of age in hiring, placement, promotion, demotion, transfer, termination, and discipline.
AMERICANS WITH DISABILITIES ACT ("ADA")
The ADA prohibits discrimination against individuals with disabilities in job application procedures, hiring, firing, advancement, compensation, job training, and other terms, conditions, and privileges of employment. Many people have disabilities but do not consider themselves "disabled." In fact, many common medical conditions are covered disabilities under the ADA.
An employer is required to make reasonable accommodations to the known disability of an employee or job applicant if it would not impose an "undue hardship" on the employer's business. Employers are also required to engage in the "interactive process" before making a finding that the accommodation request will impose an undue hardship. The interactive process is an opportunity for the employer and employee to discuss the accommodation and options.
RETALIATION
Generally, retaliation occurs when an employee engages in a "protected activity" (e.g., opposes an unlawful employer practice, participates in an internal or external investigation, or exercises other statutory rights) and suffers some "adverse action" that is "causally connected" to that activity. Often, companies consider retaliation in the context of familiar anti-discrimination statutes such as Title VII of the Civil Rights Act of 1964, the Age Discrimination in Employment Act, or the Americans with Disabilities Act.
While retaliation claims frequently arise under such discrimination statutes, the risks extend well beyond them. Most labor and employment laws, as well as many others that do not fit squarely into that category, prohibit retaliation. For example,  the whistleblower provisions of the Sarbanes-Oxley Act, the Dodd-Frank Wall Street Reform and Consumer Protection Act, and the False Claims Act, all protect employees against retaliation.
The North Carolina Retaliatory Employment Discrimination Act (REDA), prohibits any person from retaliating against an employee who has engaged in or threatens to engage in protected activity, which includes: filing a claim or complaint, initiating an inquiry, inspection, proceeding, or other action, or testifying or providing information to any person with respect to: the North Carolina Worker's Compensation Act; Occupational Safety and Health Act of North Carolina; and the Wage and Hour Act.
If you are an employee or job applicant who believes you have been discriminated or retaliated against for any of the reasons discussed above, you should immediately contact an attorney.
FAMILY & MEDICAL LEAVE ACT
NORTH CAROLINA FAMILY AND MEDICAL LEAVE LAWYER
Our firm helps employees who have suffered an adverse employment action as a result of a medical condition or to care for a family member. Federal laws provide various protections for employees who have health-related issues or who must provide care for a family member with health-related issues. 
THE FAMILY & MEDICAL LEAVE ACT ("FMLA")
The FMLA requires covered employers to provide eligible employees unpaid, job-protected leave per year.  Covered employees can take such leave in one block of time or on an intermittent basis, which allows employees to take leave in small amounts and on an as-needed basis.
The FMLA protects covered employees against adverse action. Employers may not interfere with a covered employee's right to take FMLA leave. The  FMLA also protects covered employees against retaliation for requesting or taking FMLA leave. Unfortunately, the FMLA does not cover all employees. It is crucial that you speak with an attorney to review your eligibility under the FMLA.  
REASONABLE ACCOMMODATIONS, DISABILITIES, AND THE FMLA
The Americans with Disabilities Act ("ADA") can also protect employees who utilize FMLA leave under certain circumstances. The ADA protects disabled employees, in addition to prohibiting employers from discriminating against employees on the basis of disability. The ADA requires employers to provide disabled qualified employees and applicants with reasonable accommodations unless doing so would lead to undue hardship for the employer. 
If you have a question or concern regarding FMLA leave in Charlotte or other parts of North Carolina, contact Littlejohn Law, PLLC. 
Sexual Harassment & Assault
SEXUAL HARASSMENT
Unfortunately, sexual harassment continues to be a reality in the workplace. Sexual harassment is a form of sex discrimination that violates Title VII of the Civil Rights Act of 1964. Harassment laws are not designed to address all types of undesirable behavior between coworkers that might arise in the workplace. Rather, they are designed to prohibit unwelcome conduct based on a protected characteristic where enduring the conduct becomes a condition of employment or where the conduct is severe or pervasive enough that a reasonable person would consider it intimidating, hostile, or abusive. Anyone who interacts with employees is covered by the harassment laws— every level of employee from the president or CEO to part-time staff and even nonemployees like customers, contractors, vendors, visitors, or guests.
Behavior that constitutes sexual harassment can take the form of physical, verbal, or visual activity. For example, sexual harassment can take the following forms: Touching, pinching, fondling, rubbing, massaging, or patting; Unwelcome sexual advances; Sexual innuendos and comments; Dirty jokes or displays of illicit or graphic content, including pornography; Sexual harassment is not just limited to male approaches to females or approaches from the opposite sex. Anyone, male or female, can be a victim of sexual harassment and same-sex sexual harassment is also recognized under the law.
If you believe you are facing sexual harassment at work, call an attorney and find out whether the harassment qualifies as sexual harassment under the law.
SEVERANCE AGREEMENTS
Severance Agreements:
NORTH CAROLINA SEVERANCE REVIEW & NEGOTIATION LAWYERS
When our litigation schedule permits, Littlejohn Law, PLLC will assist employees with the review and renegotiation of severance contracts. Severance is a voluntary benefit given to an employee at the end of employment, generally in exchange for a full release of all potential claims an employee may have against an employer.
SEVERANCE REVIEW & RENEGOTIATION OF TERMS
If you have already been offered severance, believe you may have some type of underlying claim (such as wrongful termination, harassment, discrimination, etc.) and would like Littlejohn Law to review the terms of your severance agreement, including the monetary amounts offered, contact us today.
Please note, Littlejohn Law, PLLC handles severance reviews and renegotiations when our schedule permits. There are times during the year when our litigation and courtroom schedule does not permit us to undertake severance reviews.
POLICE MISCONDUCT
NORTH CAROLINA POLICE MISCONDUCT LAWYER 
Littlejohn Law is proud of the work we do to protect the innocent and those injured by the hands of law enforcement. Littlejohn Law is dedicated to the protection of civil liberties. Through that dedication, we have been able to successfully help clients wrongfully accused and victims of excessive force.
Originally, our firm focused its attention on criminal law and civil litigation. Today, our knowledge of law enforcement and the criminal justice system is an advantage in cases involving police misconduct. We take a client-centered approach to cases, which means your case will benefit from the client's active participation at the outset. This will allow us to find and utilize creative solutions to resolve cases that involve excessive force, false arrest, sexual harassment and other violations by law enforcement officials. 
When law enforcement officials abuse their power or act in a way that violates an individual's civil liberties, you must take prompt action. At Littlejohn Law we are committed to protecting victims of police misconduct. From our offices in Charlotte, North Carolina, we represent clients throughout the state in cases involving civil rights violations, including police misconduct. If you have been the victim of law enforcement misconduct, call Littlejohn Law or contact us online.
TITLE IX
NORTH CAROLINA TITLE IX ATTORNEY 
Title IX of the Education Amendments of 1972 prohibits sex-based discrimination and retaliation in education. Title IX applies to education programs or activities that receive federal financial assistance, and protects students and school employees at educational institutions at all levels, from kindergarten through postgraduate schools. Although Title IX is most commonly known for its application to athletic programs, it also prohibits sex discrimination and retaliation in all areas of education. For example, Title IX protests against discrimination in single-sex education programs, STEM programs, Career and Technical Education, on the basis of pregnancy, and sexual harassment and assault.
Littlejohn Law can provide assistance in evaluating your Title IX claim, navigating a program or institution's Title IX policies, filing a complaint with the institution, filing a complaint with the Office for Civil Rights and/or filing a civil lawsuit. If you have concerns about a Title IX matter, contact Littlejohn Law for a case review. 
HOUSING DISCRIMINATION
NORTH CAROLINA HOUSING DISCRIMINATION ATTORNEY 
It is important to realize that federal and state laws prohibit discrimination in the sale, rental or financing of a dwelling, and other housing-related transactions, on the basis of race, color, national origin, religion, sex, disability, or family status. This includes the federal Fair Housing Act (FHA). 
While the personal damages of housing discrimination are obvious, the greater damage to society includes the creation of prejudice, a lack of social and cultural cohesiveness, de facto segregation, substandard housing conditions, unequal educational opportunities, and poverty. 
If you believe you have suffered from housing discrimination, it is important that you educate yourself of your rights and contact a lawyer dedicated to accountability for housing discrimination. 
We at Littlejohn Law, PLLC, handle housing discrimination cases on behalf of tenants and remain committed to doing everything possible to obtain fair housing for all its clients. 
Accessibility: If you are vision-impaired or have some other impairment covered by the Americans with Disabilities Act or a similar law, and you wish to discuss potential accommodations related to using this website, please contact us at 704.459.5040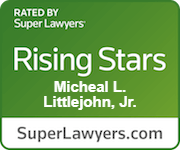 Accessibility: If you are vision-impaired or have some other impairment covered by the Americans with Disabilities Act or a similar law, and you wish to discuss potential accommodations related to using this website, please contact us at 704.459.5040