Passionate. Personalized. Purpose-Driven.
At Littlejohn Law, PLLC, we remain dedicated to our unwavering mission to provide strong legal advocacy throughout the state of North Carolina. With focused dedication, thorough preparation, and effective advocacy, we stand ready to help clients navigate challenging and stressful circumstances.
Every civil rights case requires personalized attention. Littlejohn Law will take the time to carefully listen to your story and comprehensively review all of the facts surrounding your legal claim. With a client centered approach, we will work to find the best solutions for you.
If you or a loved one believes your civil rights were violated by your employer, the government, or any other entity, contact Littlejohn Law.
Born on the West Side of Charlotte, Micheal L. Littlejohn Jr. attended Ashley Park Elementary before relocating with his family to South Carolina. He graduated from the University of Mary Washington in Fredericksburg, VA, where he majored in political science. He later graduated from the Charlotte School of Law, attaining pro bono honors. During law school, Micheal received Dean's List honors and was awarded the inaugural Julius L. Chambers Scholarship by the John S. Leary Association of Black Lawyers. He clerked for the iconic civil rights firm Ferguson Chambers & Sumter, as well as interned for the Charlotte Hornets. As an attorney, Micheal has appeared in roughly 25 county courthouses across North Carolina, handling a range of legal matters and issues. His passion for civil rights and employment law led him to open a practice for victims of discrimination, abuse of power and negligence, by providing them access to quality legal representation.
B.A., University of Mary Washington, 2012

J.D., Charlotte School of Law, 2015
North Carolina Bar, 2015

Western District of North Carolina, 2015

Middle District of North Carolina, 2020

Eastern District of North Carolina, 2020
Affiliations
Professional Awards
This award is peer nominated and selection is based upon business achievements, community involvement, and leadership capabilities.
Rising Star in Criminal Defense
30 Under 30 Class of 2018
Legal Elite: Criminal Defense (2019)
Legal Elite: Young Guns (2019)
Rising Stars 2020
"Down Goes Laches! Down Goes Laches!" – Supreme Court Lands the Knockout Punch to the Use of Laches In Intellectual Property Suits. Charlotte Law Intellectual Property Journal, Executive Editor
Lawyers for Literacy
Career Day at Garinger High School
Mecklenburg County Recreation Commission
Faith Hope Love Mentoring Program
Career Day Dilworth Elementary
Mayor's Youth Employment Program ("MYEP")
Charlotte Mecklenburg Schools:
◊ Independence High School
◊ West Mecklenburg High School
◊ West Charlotte High School
◊ Mallard Creek High School
Passionate
We care deeply about our clients, their cases, and their concerns. We will work tirelessly to seek the best possible outcome.
Personalized
Every client has a story and a unique set of needs. We strive to understand those personal stories and needs in order to better serve our clients.  
Purpose-Driven
The justice system can be complex, punitive, and difficult to navigate. We seek to protect and counsel those who find themselves facing a difficult road or set of choices.
Civil Rights
We are all afforded fundamental civil rights and equality under the law. Our laws provide a constitutional guarantee against violations of the right to life and liberty. Some of these rights include the right to be free from police misconduct and discriminatory practices in both housing and education.  If you believe your rights have been violated, Littlejohn Law stands ready to be a strong advocate who will protect and enforce the rights of our clients.
Employment Law
Littlejohn Law assists employees with all aspects of employment litigation, including claims for wrongful termination, harassment, and discrimination based on an individual's race, gender, disability, religion, and national origin. Our firm also has experience with negotiating severances and assisting with workplace accommodations.
Accessibility: If you are vision-impaired or have some other impairment covered by the Americans with Disabilities Act or a similar law, and you wish to discuss potential accommodations related to using this website, please contact us at 704.459.5040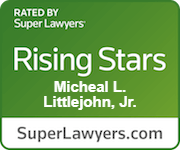 Accessibility: If you are vision-impaired or have some other impairment covered by the Americans with Disabilities Act or a similar law, and you wish to discuss potential accommodations related to using this website, please contact us at 704.459.5040